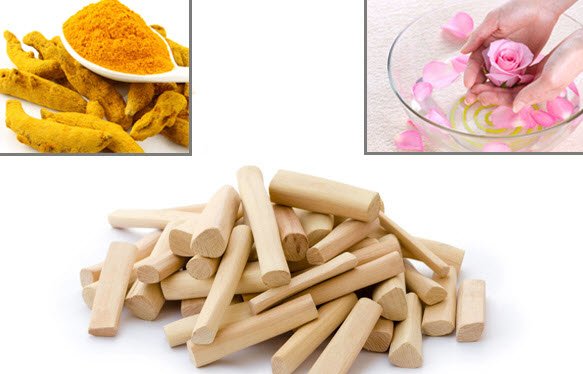 Turmeric Is an excellent exfoliating agent, turmeric can help eliminate the signs of aging.. Turmeric is beneficial for oily skin as it regulates the production of sebum, an oily substance produced by the sebaceous glands. Sandalwood acts as an astringent and orange juice, being a source of vitamin C, helps clear the blemishes..
Sandalwood is a virtual ware house of goodness and has antiseptic, astringent, anti inflammatory and disinfectant properties. The antiseptic quality of sandalwood benefits to treat rashes, acne, blackheads and other skin eruptions. Its germicidal quality inhibits the growth of bacteria. It is also a natural astringent, especially for oily skin and also helps in toning up the skin.To better understand these terms and their significance, I have given below a brief definition of the following properties.
Made with the goodness of Olive Oil, Coconut Oil, Sandalwood Oil, Red Sandalwood Powder, Organic Turmeric Powder, Castor Oil & Essential Oil.
Weight - 175 grams
Delivery - 4 to 5 Business days from the date of order.